30.06.2022
Naming ceremony of the 5th from the series of eight 32,150 tonne bulk carrier m/v Vezhen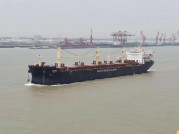 Today, June 30 2022, the flag of the 5th from the series of eight 32.150 tonne bulk carrier (HULL YZJ-2019 1338), contracted by Navigation Maritime Bulgare, has been raised at the Chinese shipyard Jiangsu Yangzi Xinfu Shipbuilding Co. Ltd.
The company operates m/v Kom , m/v Bogdan, m/v Perelik and m/v Verila, all sisters of m/v Vezhen.
She is the second Navibulgar ship named after that peak of Stara Planina Mountain in Bulgaria.
55 years ago, the first m/v Vezhen (13 470 DWT) was built in the Japanese shipyard of Enoshima.
She was serving for Navibulgar fleet for 41 years.
Captain Ivan Todorov and engineer Orlin Stoykov are her first master and chief engineer accordingly.
One more vessel of this series is expected to join the fleet within 2022.
She will be named Shipka.
Navigation Maritime Bulgare continues the tradition of naming its new bulk carriers after Bulgarian mountains and mountain peaks.
Press center of Navibulgar