11.02.2022
Hoisting the flag of the 3rd from the series 32,150 tonne bulk carrier m/v "Perelik", ordered by Navigation Maritime Bulgare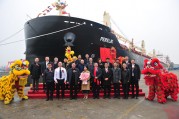 Today, February 11 2022, the flag of the 3rd from the series of eight 32.150 tonne bulk carrier contracted by Navigation Maritime Bulgare, has been raised at the Chinese shipyard Jiangsu Yangzijiang Shipbuilding Co.
She is the third Navibulgar ship named after the highest peak in the Rhodope Mountains in Bulgaria.
From the same series the company is already operating m/v Kom and m/v Bogdan.
The ship has been financed by Bank of China and her classification society is DNV.
Captain Dimitar Stoychev and chief engineer Dimitar Stefanov are her first master and chief engineer accordingly.
The maiden voyage will start in Caofeidian port (China) where she will load cargoes for the Great Lake ports in North America.
The first m/v Perelik (IMO: 5371428) was a bulk carrier, built in 1958 in the Netherlands and was serving in Navibulgar fleet from 1965 to 1987.
The second m/v Perelik (IMO: 9132507) was built in Bulgaria in 1998.
She was sold in 2018. At present she is flying Sierra Leone flag and her name is "Queen Sara".
The first two ships of this new Navibulgar series have proven their excellent performance and low NOx and CO2 environmental footprint.
Press center of Navibulgar