RAILWAY AND RO-RO FERRY
Ferry Schedule
The abovementioned schedule is preliminary and subject to changes in the course of its execution, depending on the circumstances that the operator considers to be reasonable.
The mounthly schedule is announced at the end of the previous month.
Аny changes to the abovementioned schedule will be reflected immediately for the current website.
FERRY LINE VARNA - BATUMI / POTI
Navigation Maritime Bulgare offers to the customers safe international railferry transport.
Ferryboat vessel Geroite na Sevastopol operated by NAVIBULGAR® with total carrying capacity of 108 wagons/ /100 motor trucks up to 16m length / 900 cars operate the regular line Varna - Batumi / Poti - Varna.

All types of cargoes (wagons, trucks and containers) are accepted for transportation in railferry service. The service also allows transportation of deck cargo, cars and passengers (in the presence of free cabins) to be carried out. Different types of cargoes including dangerous cargoes are accepted for transportation. Varna (Bulgaria) - Batumi / Poti (Georgia) is the part of Transport Corridor Europe - Caucasus - Asia (TRACECA)


Main advantages of ferry transportation
Possibility of cargo transportation without trans-shipment guarantees;
Fast and efficient customer service;
Less border crossing ;
Updated monthly schedule with weekly sailings from Varna.
TARIFF 01.02.2023 VARNA - BATUMI/POTI - VARNA
1. TRANSPORTATION OF WAGONS
| | | |
| --- | --- | --- |
| LENGTH OF WAGON | PRICE | TRANSPORT |
| up to 15m | 3000 USD | FULL/EMPTY |
| up to 15m | 4000 USD | FULL/FULL |
| from 15m to 19m | 3800 USD | FULL/EMPTY |
| from 15m to 19m | 5500 USD | FULL/FULL |
| from 19m to 24m | 5000 USD | FULL/EMPTY |
| from 19m to 24m | 6500 USD | FULL/FULL |
2.TRANSPORTATION OF TRUCKS UP TO 40t, WIDTH UP TO 2.6M,HEIGHT UP TO 4.2m UNACCOMPANIED
up to 8m
up to 18t
8.01-10m
up to 25t
10.01-14m
up to 36t
14.01-19.00m
up to 40t
Autocomposition
19-22m up to 40t
VARNA - BATUMI / POTI
1350 EUR
1600 EUR
1950 EUR
2100 EUR
2300 EUR
BATUMI / POTI - VARNA
900 EUR
1050 EUR
1200 EUR
1350 EUR
2000 EUR
ROUND TRIP
---
---
---
2500 EUR
3650 EUR
SEMI TRAILER / ROUND TRIP - 1950 EUR (FULL/EMPTY) / 2450 EUR (FULL/FULL)
FREIGHT
UNACCOMPANIED
VARNA - BATUMI / POTI
BATUMI / POTI - VARNA
MINIBUSES, VANS AND AUTO HOMES UP TO 7m/5t/
700 EUR
650 EUR
PERSONAL CARS WITH TRAILERS UP TO 8m
700 EUR
650 EUR
PERSONAL CARS WITH HEIGHT UP TO 1.83m
500 EUR
450 EUR
MOTO BICYCLE
300 EUR
250 EUR
PASSENGER / DRIVER
VARNA - BATUMI / POTI
BATUMI / POTI - VARNA
DRIVER/TRUCK
0 EUR
100 EUR
ADULT PASSENGER TICKET
200 EUR
200 EUR
PASSENGER TICKET FOR CHILDREN 6 TO 12 YEARS
80 EUR
80 EUR
CHILDREN UP TO 6 YEARS
FREE OF CHARGE

The current tariff is valid for two months after the date of the announcement of a new tariff.

Transport of Dangerous, excise, oversized or military goods, live animals, and containers – are subject to a separate agreement for each case.

***SEA FREIGHT FOR OVERSIZED EQUIPMENT IS NEGOTIABLE
***BAF(BUNKER ADJUSTMENT FACTORI)THERE WILL BE A PRICE INCREASE IN THE TARIFF IN PROPORTION TO THE RELEVANT AMENDMENT
***TERMINAL FEES ARE CHARGED SEPARATELY FOR THE WAGON
***FOR PROVIDING AN INCORRECT DRIVER'S DECLARED THE FINE IS 2X THE TICKET PRICE
***FOR INCORRECTLY DECLARED CARGO, THE FINE IS 2X THE VALUE OF THE UNDECLARED CARGO

NAVIGATION MARITIME BULGARE RESERVES THE RIGHT TO MAKE CHANGES TO THE TARIFF DEPENDING ON CHANGES IN MARKET AND NAVIGATION CONDITIONS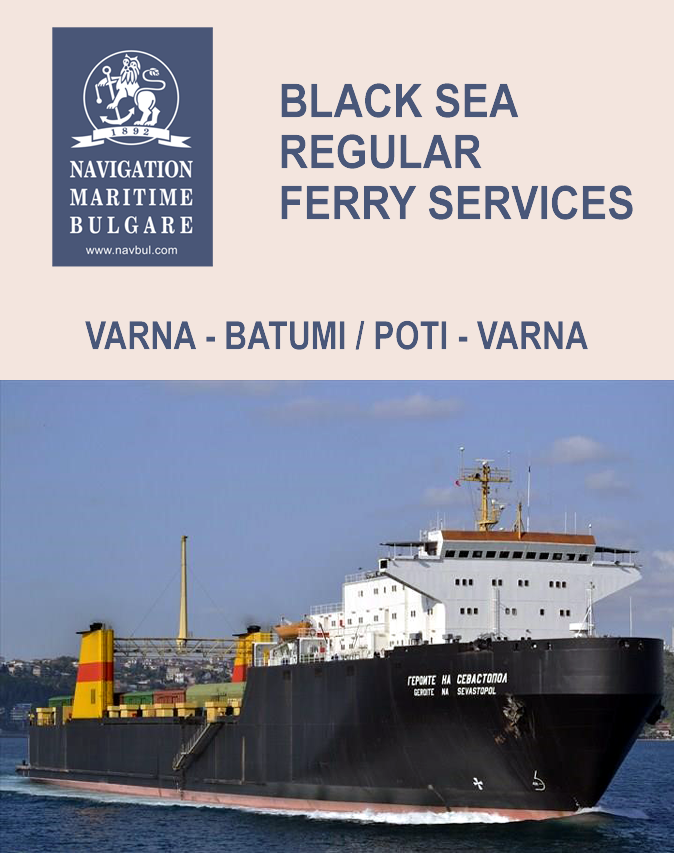 Ferry complex - city Beloslav
RoRo transportation:
mob: +359878258713
email: roro@navbul.com
Web site: www.navbul.com


Wagon transportation:
tel.: +35952683245
mob: +359888448206
email: ferry@navbul.com
Web site: www.navbul.com